Project Description:
Menter Iaith Pembrokeshire is a community organisation which promotes and facilitates the use of the Welsh language in every aspect of Pembrokeshire life by working with individuals, organisations and businesses in the community.
One of the main aims of 'Y Digwyddiad' project was to give young people an experience of modern Welsh music and to explore the situation of Welsh language music and wider culture amongst young people within the county.
Menter's primary objectives are to raise awareness of the value of the Welsh language and culture among Pembrokeshire's inhabitants and to promote, without exception, use of the language in every aspect of Pembrokeshire life. It is very important to us that the Welsh language develops widely across the county, particularly in those traditional heartland areas which, according to 2011 Census statistics, are deteriorating further and also in those areas where there is less Welsh used but where the importance of the language is gradually becoming apparent. Our task is to use the resources and local committees which have existed throughout the Urdd Eisteddfod in order to keep and maintain interest in moving the Welsh language forward within their communities.
Project Outcomes:
The project went directly to schools, starting the Band of the Week project, with gigs being arranged in schools and for schools.  Welsh-only Music events (Gaeafgysgu) were established at Haverhub to combine with their annual beer festival and at the GwaunFest annual festival.  A series of gigs were also arranged in various locations around the county to give as many different people as possible a taste of Welsh music.  The project contacted other Mentrau Iaith across the south west in planning the events. Both the West Carmarthenshire Menter and Ceredigion Menter helped organize the Gaeafgysgu Festival and sought out audiences for some of the gigs. A meeting was also arranged between the three mentrau to discuss how to collaborate on musical events across the three counties, trying to attract children and young people from all the Welsh schools in the area.
"The chance for the children to experience 'non-traditional' Welsh music. For them to hear modern music sung in Welsh. The fact that we had a real live music venue with lights etc. just made it, it certainly wouldn't have been the same in a school hall etc."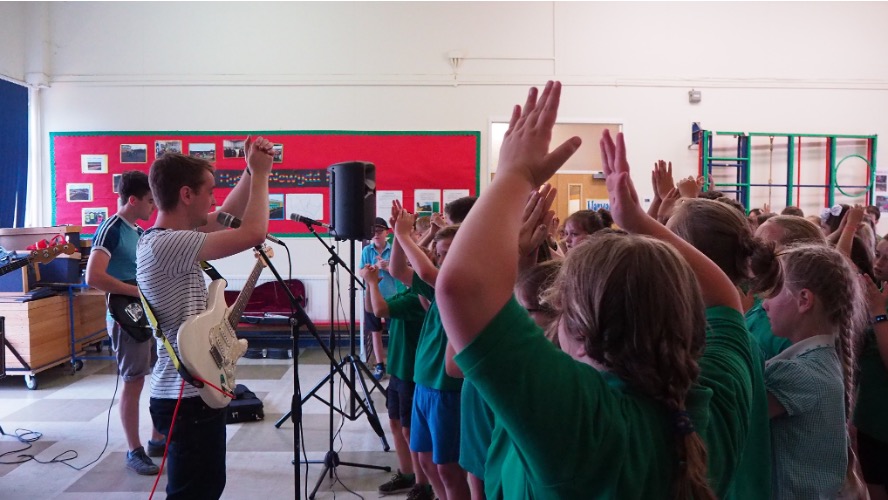 Lessons Learned:
Reducing the number of projects at the start of the period would have allowed the project to focus on a small number of initial ideas and thoroughly explore them before moving on to the next idea.  It was decided to work with primary schools, secondary schools, on organizing gigs, offering extra-curricular workshop etc. and tried to keep all these ideas going in the first year, at the expense of giving fair time to reflect on the ideas individually
Contact Details: