Project Budget:
Total £75,000 of which £52,500 LEADER - Kiln excavation & preservation
Total £15,600 of which £10,600 LEADER - interpretation
Project Outcomes: 
This project ensured that the community could exploit the opportunities offered by a hitherto untouched late medieval monument in two ways.  One to realize the economic potential it offers for developing heritage tourism in order to benefit Pembrokeshire.  Two, and equally important, using the project to uncover Newport's medieval history involving all ages of the community by offering opportunities to participate through volunteering, educational events and community activities. 
The project created volunteer opportunities and provided relevant training. A key feature of the project was to up-skill local people of all ages. Training in historical research, events management, marketing, first aid and catering was provided. People were also trained as local history guides for event weekends at the kiln, as well as around the historical sites of interest in and around Newport.  A diverse and exciting program of community activities was carried out to engage and bring together the community under the umbrella of shared heritage.
The secondary funding enabled a specialist to continue documentation research and translate from Old Latin, to produce interpretation panels in an accessible story for visitors, including school groups.
"We are very grateful to the funders and the amazing volunteers who have already put in many hours of research into this fascinating and rare communal artefact that we hope will be a pivot to greater understanding of our heritage." Project Manager Siobhan Ashe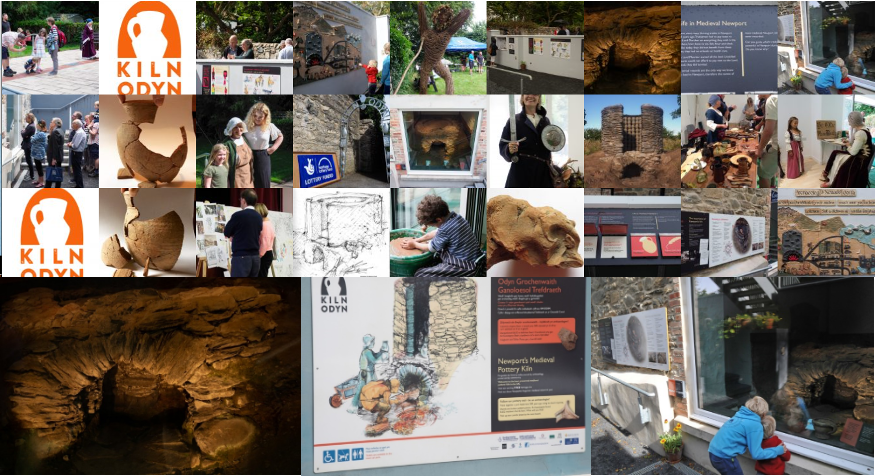 Lessons Learned:
In hindsight, archaeological insurance would be beneficial in the case of new discoveries; and an interpretation specialist would have been employed alongside the architect during the development phase.
Moving Forward:
The Newport Kiln attraction is open to the public all year and is free to enter.  The excavated kiln is viewed through a new window in the side of the community hall, accessible for all to see.  The attraction supports school visits with an educational resource room, bilingual lesson plans and activities based on the National Curriculum.  There are interpretation panels, a short film, an archaeology trail and garden picnic area available at the site.
New Memorial Hall Medieval Kiln, Investigation Record And Evaluation Cover
Click HERE to view
Newport Memorial Hall Revised Evaluation Prelims
Click HERE to view
New Memorial Hall Medieval Kiln, Investigation Record And Evaluation
Click HERE to view
Arwain Sir Benfro and the LEADER Programme concluded in December 2021 once all projects were completed and funding exhausted. There is now no dedicated support upon the completion of the LEADER Programme in Pembrokeshire. Should you have any queries, PLANED as the previous administrators, may be able to assist, or similarly for wider questions on the LEADER Programme in Wales, please contact the Wales European Funding Office (WEFO).