We have a genuine passion for the art of yarn bombing and would relish the opportunity to teach this uplifting art to community groups. We intend to run workshops, offering places to up to eight people in each session The initial tuition would cover the essentials for yarn bombing which consist of knitting, crocheting and needlepoint, with the view to expanding the tuition to cover felting and weaving. The group will be taught how to plan each piece of work and take appropriate measurements to ensure the work accurately fits the chosen object that is to be yarn bombed e.g. bollard, tree, lamp post etc. We envisage group members completing a finished yarn bomb within a six week period.
Project Outcomes:
A 1-year pilot which facilitated woolly workshops in Haverfordwest, as well as offering outreach services to other areas.  13 series of 6 sessions provided tuition to over 100 participants, working with socially excluded groups to increase confidence and self-esteem by creating the personal woolly panel as displayed along the streets of Haverfordwest.  Some participants have gone on to join a yarn bombers groups.  The project also developed good partnership relationships with a number of organisations which will strengthen and supporting the project going forward.
" I have seen all groups thrilled at the outcome and have seen confidence grow with the sense of well-being utmost, many have gone on to make more woolly panels and we have had some handed in for the next yarn bombs."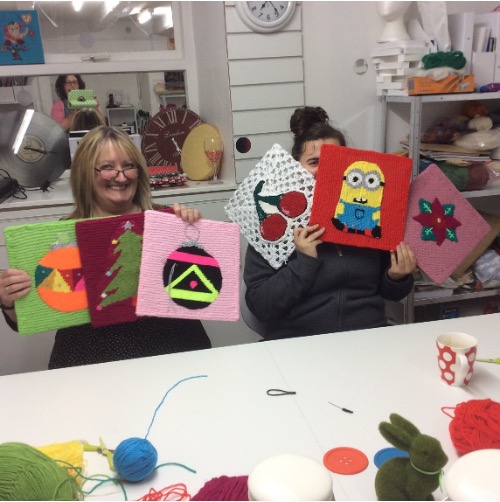 Lessons Learned:
Detailed attendance sheets would give a greater insight into attendance at sessions, whether people attended all 6 sessions or if new people attended each session.
The project thought videoing some of the workshops would be a lovely way to show the groups involved how their confidence grew over the 6 week sessions, not just from the work involved but also from mixing and socialising, however, privacy is paramount and it was thought that only a few of the groups would allow videoing.