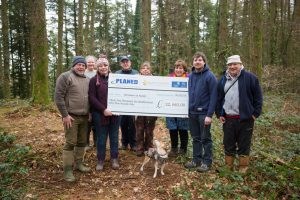 A project that will help people reconnect with nature has been funded to deliver an innovative training programme across Pembrokeshire. Reconnect in Nature will help people connect with their natural environment, reconnect with themselves and create a community that supports each other.
Arwain Sir Benfro – the Local Action Group (LAG) for Pembrokeshire, administered by PLANED have recently provided funding of £32,661.00 to Reconnect in Nature. This is funded through the LEADER programme, which is part of the Welsh Government Rural Communities – Rural Development Programme 2014 – 2020, Funded by the European Agricultural Fund for Rural Development and the Welsh Government.
Reconnect encourages mental wellbeing by investing in the proven therapeutic benefits of engaging in nature based activities and the benefits of peer mentor support to boost people's outlook, confidence and skills.  Throughout 2018 the Nature Connections and Wellbeing project will be delivered in different woodlands across Pembrokeshire, where participants will learn a variety of activities including mindfulness in nature, nature art and writing, camp craft and digital storytelling.
Director for Reconnect Andrew Dugmore said "We are delighted to have this funding to support our work. We've seen the difference that bringing people together in nature has for both mind and body, it activates our senses in different ways and over time enables us to change our outlook."
For those interested in taking part in the Nature Connections and Wellbeing programme, Reconnect in Nature will begin sessions in April and invites people and organisations to get in touch with them to find out more.
Natalie Lang, Project Officer said: "This is just one example of the great projects being delivered in the county. PLANED, now celebrating its 30th year has helped communities in Pembrokeshire to access over £25m worth of funding during that time.
"Arwain Sir Benfro is currently supporting project ideas from local community groups, organisations and businesses. As the Local Action Group for Pembrokeshire, we bring together a mix of local community representatives, business, third sector, local authority partners.
"We designed and are now implementing the Local Development Strategy for Pembrokeshire. The group is supporting projects which test new ideas that benefit the county and contribute to a competitive, productive and sustainable local economy."
LEADER can support all kinds of activity: mentoring, training, feasibility studies or pilot projects that test an innovative new idea. It can also be used for projects that improve local skills, make better use of a local resource or realise the economic potential of part of the locality leading to a 'new' outcome or product.