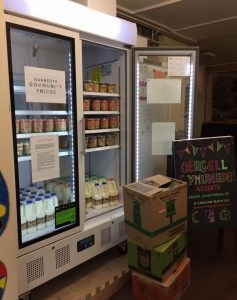 Pembrokeshire has a second permanent fridge open to the community. Bloomfield House Community Centre have received funding to run a permanent Community Fridge and Larder in Narberth, which will help to reduce food waste and destigmatise the use of surplus food.
Arwain Sir Benfro – the Local Action Group (LAG) for Pembrokeshire, administered by PLANED have provided funding of £40,009 to Narberth & District Community & Sport Association (NDCSA), the community association and charity that operate Bloomfield House Community Centre.
This is funded through the LEADER programme, which is part of the Welsh Government Rural Communities – Rural Development Programme 2014 – 2020, Funded by the European Agricultural Fund for Rural Development and the Welsh Government.
Vicki Travers-Milne from Bloomfield House Community Centre said: "Community Fridges are a great way of stopping good food ending up in the bin. They're housed in public, accessible places, making surplus perishable food freely available to members of the public. Surplus food is provided by local businesses or members of the public and is then available to members of the community. They work on an honesty basis."
Natalie Lang, Project Officer said: "I'm really excited to see this project get funding. The Community Fridge and Larder will be the second permanent one in Pembrokeshire, there is also one in Fishguard operated by one of the partner organisations, Transition Bro Gwaun.
"Surplus food redistribution and community fridges are an innovative way of dealing with the substantial food waste issue that is prevalent in the UK. Innovation is a key principle of LEADER funding."
You can find out what is available in the fridge, which is open to all by checking the Bloomfield Facebook page: https://www.facebook.com/Bloomfieldcentrenarberth/