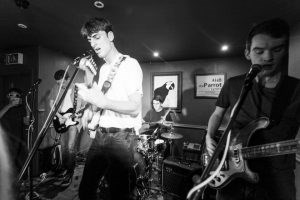 A Menter Iaith Sir Benfro project to help people to reclaim the music scene has been awarded funding by Arwain Sir Benfro.  Y Digwyddiad is a two-year project that will offer young people the opportunity to organise music and cultural events across the county.
Arwain Sir Benfro – the Local Action Group (LAG) for Pembrokeshire, administered by PLANED have provided funding of £60,000 to Menter Iaith Sir Benfro. This is funded through the LEADER programme, which is part of the Welsh Government Rural Communities – Rural Development Programme 2014 – 2020, Funded by the European Agricultural Fund for Rural Development and the Welsh Government.
Nico Dafydd from Menter Iaith Sir Benfro said:  "This is the first project of its kind to be run in Wales. We will be giving young people the skills and experience so that they can organise and promote events in their area. In a way, this is an opportunity to see all aspects of maintaining a musical scene. The natural result of that is that many more gigs will be held in the area, run by the young people themselves.
"The project will provide opportunities for young people to experience the aspects of the pop music culture, from creating posters to controlling the sound, so that they can feel ownership of the events. We will then create a program of events over the next two years. Even though Y Digwyddiad is a music project, we also want to hear from young people in the field of art, film, production, design and writing."
Y Digwyddiad will also be working with the primary school sector. A primary school program will be piloted to raise awareness and offer ideas to primary teachers on how to promote and celebrate Welsh music.
Buddig Meredith, Project Officer said: "This is just one example of the great projects being delivered in the county. PLANED, now celebrating its 30th year has helped communities in Pembrokeshire to access over £25m worth of funding during that time.
"Arwain Sir Benfro is currently supporting project ideas from local community groups, organisations and businesses. As the Local Action Group for Pembrokeshire, we bring together a mix of local community representatives, business, third sector, local authority partners."
LEADER is supporting all kinds of activity: mentoring, training, feasibility studies or pilot projects that test an innovative new idea. It can also be used for projects that improve local skills, make better use of a local resource or realise the economic potential of part of the locality leading to a 'new' outcome or product.