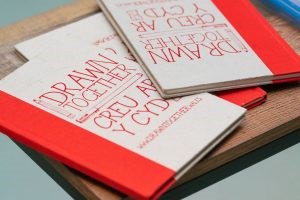 A project to support and form new connections through drawing has been funded by Arwain Sir Benfro.
The project will explore in practice how the shared creative activity of drawing can celebrate identities and help to bring people together.
Arwain Sir Benfro – the Local Action Group (LAG) for Pembrokeshire, administered by PLANED provided funding of £14,999 to Coast Lines. This is funded through the LEADER programme, which is part of the Welsh Government Rural Communities – Rural Development Programme 2014 – 2020, Funded by the European Agricultural Fund for Rural Development and the Welsh Government.
Artists will work with community groups, schools, businesses, residential homes and minority groups, the workshops will travel to different areas in the county and encourage participants to draw their surroundings within the projects communal sketchbooks. All drawings entered into the communal sketchbooks will be scanned and uploaded throughout the project onto a new digital map through the Drawn Together website
The project will culminate for its final stage in exhibitions within the Senedd and the National Museum of Wales throughout The Big Draw, October 2018. Drawing sheds, sketchbooks, animations, photographs and films will form the exhibition, as well as a series of banners transcribed from drawings from the sketchbooks that will visually describe Wales, counties, towns and villages. These exhibitions will share the collaboration, connection and participation achieved through the project.
It's hoped the project will help to build creative skills and support community cohesion throughout Pembrokeshire.