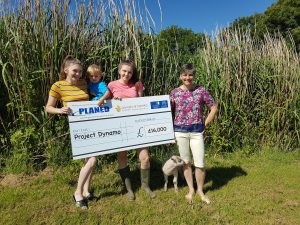 A project to explore creating a renewable energy hub has been awarded funding by Arwain Sir Benfro.  Project Dynamo will explore the creation of a network supplying renewable energy to local businesses and communities in and around the Martletwy area.
Arwain Sir Benfro – the Local Action Group (LAG) for Pembrokeshire, administered by PLANED have provided funding of £16,000 to Project Dynamo. This is funded through the LEADER programme, which is part of the Welsh Government Rural Communities – Rural Development Programme 2014 – 2020, Funded by the European Agricultural Fund for Rural Development and the Welsh Government.
Emma Ratcliffe from Project Dynamo said: "We hope to create an energy network in the area, that could lead to a business partnership delivering energy across a diverse community.
"By working together as a community we can take advantage of renewable energy from solar and wind, with battery storage to supply business and local communities in Martletwy. As well as supplying the businesses, we want to supply the local community and explore models of community ownership.
"This is a first for Wales in terms of the scale, combination of technology and network of target energy consumers for an off grid scheme. We are therefore keen to share our knowledge and learn from other schemes."
Natalie Lang, Project Officer said: "This is a great example of the innovative projects taking place across the county. PLANED, now celebrating its 30th year, has helped communities in Pembrokeshire to access over £25m worth of funding during that time. This project has the potential to reduce the carbon footprint of local business, developing new short supply chains but also supply local communities through social enterprise arrangements, and in so doing improve energy information, choices and opportunities."
Arwain Sir Benfro is currently supporting over 60 project ideas from local community groups, organisations and businesses. This includes all kinds of activity: mentoring, training, feasibility studies or pilot projects that test an innovative new idea. Arwain Sir Benfro also supports projects that improve local skills, make better use of a local resource or realise the economic potential of part of the locality leading to a 'new' outcome or product.
Arwain Sir Benfro is the Local Action Group for Pembrokeshire, it brings together a mix of local community representatives, business, third sector, local authority partners. The Group designed and is now implementing the Local Development Strategy for Pembrokeshire. The group is supporting projects with LEADER funds, which test new ideas that benefit the county and contribute to a competitive, productive and sustainable local economy.