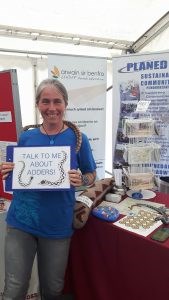 A project to help educate people about our native snake species, the Adder, has been awarded funding by Arwain Sir Benfro.  The Adders are Amazing project will deliver a community engagement programme across Pembrokeshire, with particular focus on the St Davids Peninsula.
Arwain Sir Benfro – the Local Action Group (LAG) for Pembrokeshire, administered by PLANED have provided funding of £14,999.58 to Amphibian and Reptile Groups of the UK (ARG UK). This is funded through the LEADER programme, which is part of the Welsh Government Rural Communities – Rural Development Programme 2014 – 2020, Funded by the European Agricultural Fund for Rural Development and the Welsh Government.
Dr Sam Langdon from ARG UK said: "We want to help develop a greater understanding of adders in local communities, helping people realise they are quite a timid and vulnerable animal that are in need of our help. The project is organising an inspirational programme to engage the wider community and general public, to hopefully reverse the effects of the negative publicity and persecution that adders have suffered over so many generations."
Natalie Lang, Project Officer said: "This is a great example of the innovative projects taking place across the county. PLANED, now celebrating its 30th year, has helped communities in Pembrokeshire to access over £25m worth of funding during that time.
"Arwain Sir Benfro is currently supporting over 60 project ideas from local community groups, organisations and businesses. This includes all kinds of activity: mentoring, training, feasibility studies or pilot projects that test an innovative new idea. We also support projects that improve local skills, make better use of a local resource or realise the economic potential of part of the locality leading to a 'new' outcome or product."
Arwain Sir Benfro is the Local Action Group for Pembrokeshire, it brings together a mix of local community representatives, business, third sector, local authority partners.
The Group designed and is now implementing the Local Development Strategy for Pembrokeshire. The group is supporting projects with LEADER funds, which test new ideas that benefit the county and contribute to a competitive, productive and sustainable local economy.